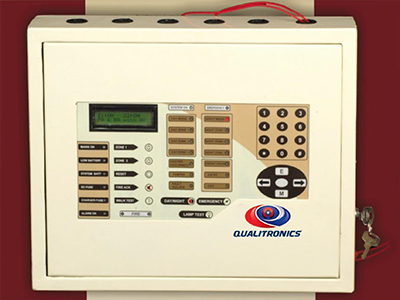 Integrated Fire cum Burglar Alarm System with inbuilt Auto Dialer
Our state of art, user friendly sleek and sturdy Integrated Fire cum burglar Alarm system with inbuilt Auto Dialer is one of its kind. Confirming to IS 2189 standards, it is designed with embedded technology, the system status is known through both LCD as well as LED indications. The add on feature of inbuilt Auto Dialer facilitates the end user in sending SOS messages to pre determined Telephone or mobile Nos providing five lines each for fire and burglar events.
Features:
Fire Alarm:
Confirm to IS 2189 specifications
16 x 2 LCD display to indicate zone status.
LED indications for AC ON, System on Battery, DC fuse, Charger fuse. and Fire.
Control switches for zone isolation, alarm acknowledgement and system reset.
Internal buzzer for warning
Compatible to connect ISD, OSD, HD and Flame sensor.
Hooter audibility is 90 dB @1 meter.
Burglar Alarm:
Day and Night mode selectable.
Three Day zones, Three Night zones and Front Door, One common Emergency zone.
Visual Zonal indications.
Automatic Isolation of Faulty zones with LED indications.
Front Door Entry delay and Exit delay.
Hooter Disconnect alarm with indication.
Unit tamper alarm with indication.
Auto cut-off alarm.
Auto Reset after the auto cut-off alarm.
Two External Hooters and One Internal Hooter.
Hooter sound level is 120 dB @ 1 meter.
PIR's, LDR's and Beam Sensor can be connected.
Auto Dialer:
Two independent messages for Fire and Burglar alarm.
LCD for telephone number display.
Five Telephone Nos each with 16 digits for Fire and Burglar can be stored.
User programmable telephone numbers and voice messages.
False dialing prevention.
Message duration for 40 to 60 seconds.
Technical Specification:
| | |
| --- | --- |
| Input Voltage | 90-270 V AC |
| Zone Voltage | 12 V DC |
| Charging Voltage | 13.8V, 3A max |
| Alarm Current | 4A max. (Both Fire and Security Alarm) |
| Sound level of Hooter | 90dB for FA and 120 dB for security Alarm @ 1 meter |
User friendly in handling panel.
SMPS power supply within built battery charger
Operates on 12 V DC
48 hrs battery backup
Easy installation and maintenance (modular type circuit boards).
Facility to connect external Auto Dialer (Pin compatible with QT/AD).