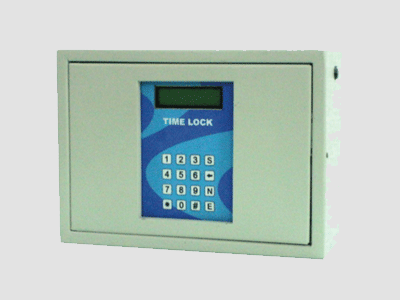 Time lock is a micro controller based system used to provide highest level of security. This system can be installed in places like bank locker room. As the name suggests, this system allows the authorized user to enter the room only during the pre set time. As the system is password protected any entry other than the preset time, will trigger the alarm. Thus, the system acts as a burglar system apart from being an electronic lock.
Features
The system Lock is enabled to open only for the specified duration. The duration of the lock to be open is programmable.
Password protected. Three levels of access password and a master Password.
Programming of time, day and holiday is possible using the master Password.
Three pedal switches provided to extend the lock open duration.
An emergency switch is provided to lock the door in case of any emergency.
Day and Night mode of operation.
4×3 matrix keypad to program the time lock.
The system has the data log facility. i.e., the events such as opening the door, time extended are stored and can be uploaded to the PC for any future Reference.
Tamper proof cabinet.
System operates on a 12V battery.
• Application includes Bank lockers, jewel marts, etc.
Specifications
| | |
| --- | --- |
| Panel Security | Tamper Proof / Relock Switch, On Board Keypad for Settings, Door Status Display |
| Power Supply | DC Power, Battery Operated, Reverse Polarity Protection |
| Digital I/O | 2 IN, 1 OUT |
| Indication | LED Indication for Door Lock/ Unlock |
| LCD Indication | Lock Status, Date, Time, Unauthorised Entry |
| Event Logs | Yes |
| Keypad | Tactile Keypad |
| SMPS | Inbuilt |
| Emergency Access | Yes |
| Emergency Access Time | User Configurable |